I finally caved in and started pinching my pennies from everything to actually cooking at home and now making my own detergent for laundry. This is so much fun. I just feel like I've "beat the system" by saving so much money here. Plus there is nothing but real pure ingrediants in this soap.
There are a million recipes for homemade laundry soap and I am currently looking for a liquid recipe but for now I have tons of the powdered version which will take forever to run out of so it will be a while before I make liquid.
This is what I used:
1 cup Borax(Mule team-found in laundry isle)
1 cup Washing Soda(Arm and Hammer-found in laundry isle)
1/2 cup OxyClean
1/3 bar grated Fels Naptha soap
desired amount of Downy Unstoppables Pellets
Crush up part of the pellets and leave some intact.
Grate the soap
Mix it all together.
Store in closed container. Avoid moisture areas.
USE 1-2 TBSP per load
TESTIMONY- I used it on the dog's bedding that hadn't been washed in months and was not only very stinky, but dingy(dingie?) and discolored. IT CAME OUT CLEAN AND FRESH. I used about 4 TBSP on that since it was so dirty. For all of our everday laundry just 1-2 is fine and dandy. Even my daughter was excited about doing laundry. And if any product homemade or not can make you want to clean, then it is a miracle!!!
It all cost me under $20 and I've made 2 batches and estimate I can make several more. I'll have to buy more Fels Naptha soap but it was only $1 at Walmart. It is safe for HE washers with the exception of putting in the dispenser. The downy pellets are not to go in a dispenser so I would just throw it in the tub when I start the wash. ALSO IT DOES NOT MAKE SUDS. SUDS ARENT NEEDED TO GET STUFF CLEAN. I AM STILL TRYING TO GRASP THIS CONCEPT. :)
I do not recommend using Ivory soap as some recipes call for. It is too soft and doesn't grate well.
HAPPY CLEANING AND SAVING!!! I also have bought a table and 4 chairs at a yard sale all for $20 that I am planning to start working on in the near future. Can't wait to get started. So be expecting a post soon!
UPDATE: I added quite a few of the fabric softener crystals(Purex)to this mix cause they actually soften not just add fragrance. And I like it much better. It dilutes the soap ratio though so an extra scoop of the mix is needed. You dont have to add the crystals you can do them seperate but I just like mixing the stuff lol.
Lexi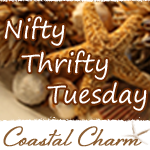 http://weliketolearnaswego.blogspot.com/2012/08/what-i-learned-wednesday-21.html
This is what it looks like after I added the softener crystals and I just love the giant pickle jar being reused.